Brunswick County NC Golf Vacations for You and Your BFFs
Posted on 11/21/2013
When it's time to just get away and you're looking for somewhere special to go with the gals or maybe for the best golf resorts for guys trips, consider what the Brunswick Beaches have to offer you. It's right here that you can experience the best yet most affordable Brunswick County NC golf vacations anywhere in the area.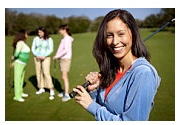 Of the over 30 courses we have listed for you on our site, you're sure to find the perfectly challenging course that will match your level of play as well as improve your best game. Many of these golf courses in Brunswick County North Carolina that we list on our site have been designed by well-known pro championship golfers.
You can save a lot when you come to play the greens during this time of the year. You're sure to appreciate there are not hordes of people enjoying their own golf vacations in Brunswick County NC at the same time you're on the fairways. Many people stay pretty close to home during the holidays, especially if they have children. Many other have family visiting and friends wanting to
celebrate the arrival of another new year in place. But we know how much you need some time away with your BFFs and that perfect place is right here waiting for you.
You're going to find our golf vacations to be exactly what you need. Affordable package deals, awesomely comfortable accommodations, and a relaxing atmosphere all come together to make this what just might be one of your best getaways ever!
Tagged: Brunswick Business |