Finding Brunswick County NC Restaurants Open on Thanksgiving
Posted on 11/20/2013
Many people like to go out to eat on holidays like Thanksgiving. Some of them don't cook, many of them don't want to dine alone, and still others are vacationing in the area and would prefer to eat their Thanksgiving meal in one of the Brunswick County NC restaurants in the area. We get that. We know they're just that good!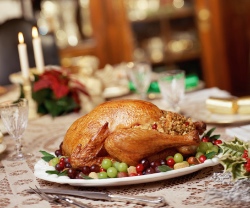 We can provide a huge list of restaurants in Brunswick County NC but you'll have to call to see what their holiday hours are and if there are special meals for the holiday. You're sure to find some restaurants are open but nary a turkey dinner on the menu. But there plenty of other restaurants, some offering fine dining while others are casual fare or buffets. Nobody will go hungry on Thanksgiving Day, that's for certain.
When you or your family are here to spend the holidays in the area you'll find a large number of restaurants where you can dine in Brunswick County North Carolina. Are you
hungry for Calabash seafood? No problem! There are many restaurants that serve our area's famous Calabash-style seafood each and every day. But maybe you want to have authentic Southern-style food like hush puppies and grits served with your meal or get your fill on po-boy sandwiches and fried dill pickles for lunch. You're all set there as well!
You can't go wrong in finding Southern favorites when you dine out anywhere around the Brunswick Beaches. Just about all of the eating establishments have Southern meals and favorite appetizers on their menu. When you're faced with the opportunity to order local foods, we suggest you don't pass it up! When in Brunswick County, eat as the locals do – you're gonna love it!
Tagged: Southport | Brunswick Business | Ocean Isle Beach | Sunset Beach | Holden Beach | Oak Island | Shallotte | Calabash |