Dining Out in Calabash
Posted on 04/16/2013
Every now and then I get a severe craving for "Calabash Style" seafood. When that happens (more and more regularly these days it seems) I head over to The Dockside Seafood House in Calabash, North Carolina. This is, as they say, "An Original "Calabash Style" Seafood Restaurant" and I can tell you first hand that they'll fill any craving for seafood that you may have.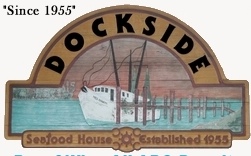 Of all the Calabash restaurants in the area this is definitely one of my favorites. I've tried many of the others and some come close and some not so much. I think it all depends on what style of dining you'd like. The Dockside offers outdoor dining on their new deck now so if they hadn't won me over previously they sure have now!

In business since 1955 they know their seafood but that's not all that's on the menu. There's often one or more in any party that balks at eating seafood so they'd be happy to know there's also slow roasted prime rib, New York strip steak, rib eye steak and more on the menu. Plus they have beer and wine as well.

During my most recent seafood craving we went to The Dockside for dinner and I filled up on stuffed flounder with a huge baked potato, incredibly scrumptious cole slaw and some of the best hushpuppies in the state! All for just $13.95! You won't find anywhere else among all the Calabash restaurants in the area where you'll get so much food for such a small price.


Just when I thought I couldn't eat another bite we stopped off at the Calabash Creamery on Beach Drive in Calabash for some of their homemade ice cream. With 26 traditional flavors, 20 of their own gourmet flavor creations, and another 16 seasonal flavors, you're bound to find something you like. We sure did! Now I want to go back and try so many of the other flavors!

Tagged: Southport | Brunswick Business | Ocean Isle Beach | Sunset Beach | Holden Beach | Oak Island | Shallotte | Calabash |