Grilled Salmon over Cilantro Lime Slaw
Posted on 05/06/2014
Here in the Brunswick Beaches, we love our seafood! Looking for a healthy seafood recipe with a bit of bite to it? Then look no further! Although salmon might not be local to our waters, we still love it! You can also use mahi, tuna, or any other fish for this recipe. Its good with shrimp too! Just make sure you adjust the cooking time appropriately.
Grilled Salmon over Cilantro Lime Slaw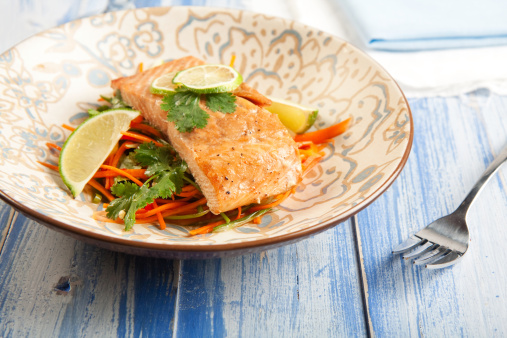 Ingredients
Salmon Fillets
Shredded Carrots
Shredded Cabbage
Fresh Cilantro
Whole Limes and/or lime juice
Olive Oil
Powdered Cayenne Pepper
1 tsp Sugar
Cilantro Lime Slaw- Prepare first and store in refrigerator
Wash and chop cilantro, so you have about 3 handfuls
In a large bowl, mix together chopped cilantro, shredded carrot, and shredded cabbage
In a separate bowl, mix together about ¼ cup of lime juice, 1-2 tbs of olive oil, a pinch of sugar, salt, pepper, and cayenne pepper (the more you use the spicier it is so use your judgment here!)
Pour the lime juice mixture over the slaw
Add more lime juice or oil if the consistancy is not as you desire
Cover and refrigerate for at least an hour
Salmon
Pre heat grill to medium heat
Mix together enough olive oil, lime juice, salt and pepper to cover the amount of salmon you have. It should be 2 parts oil to 1 part lime juice.
Wash and dry salmon filets and pick out any bones
Brush salmon filets with oil/lime mixture
Place Salmon on the grill and over
As a rule of thumb, it takes about 10 mins per inch of thickness of salmon filets. You can tell that the salmon is ready when the fat is released (you will see a white, mayonnaise looking substance).
Serve the salmon over the slaw. Garnish with lime wedges and cilantro. Enjoy!