St. Patrick's Day is Here!
Posted on 03/11/2013
Ok, the truth is I'm not Irish but I like to celebrate St. Patrick's Day as much as the next non-Irish person – and even the Irish ones! This year will be no exception. As with many holidays lately this day has turned into an entire weekend of celebration. Officially though, St. Patrick's Day is tomorrow, March 17th.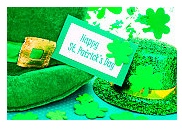 I have friends that are in town for the weekend and are staying in an exceptional place they just happened upon from the Holden Beach vacation rentals that Brunswickland Realty had available. It's still off-season so you can get really good rates on a rental at this time, too.

So today my friends and I are headed to Wilmington to take advantage of their local holiday activities and then swing by Wrightsville Beach later in the afternoon to enter a 5k race. I run every day and try to enter as many races as I have the time for. Short of doing a marathon I can handle most any of them.

The Wilmington St. Patrick's Day Festival and Parade will be from 12 noon until 5 p.m. at Riverfront Park, Water Street, Wilmington.

The race we're going to, the Wrightsville Beach Marathon 5K, is taking place from 5-8 p.m. on Saturday. The 5K starts at the Mayfaire Town Center Event Field and ends with a Pasta Dinner at the Marathon Expo at Mayfaire.

And that's all today! Who knows what tomorrow will bring!

Tagged: Southport | Brunswick Business | Ocean Isle Beach | Sunset Beach | Holden Beach | Oak Island | Shallotte | Calabash |