The Perfect Easter Sunday Dessert
Posted on 03/20/2015
With Easter right around the corner you may still be planning the details of an Easter dinner for family and friends. If so, we have a dessert that will be on our menu for sure. We're positive this will result in many "ooh's" and "aaah's" following dinner! It's well suited to the early Spring arrival of Easter this year on Sunday, April 5.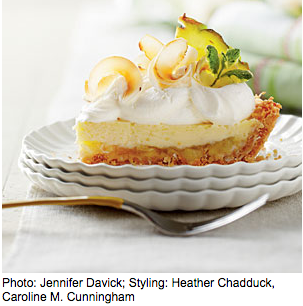 Pina Colada Icebox Pie
2 cups pecan shortbread cookie crumbs (about 16 cookies)
1 cup sweetened flaked coconut
1/4 cup butter, melted
1/3 cup sugar
2 tablespoons cornstarch
1 (8-oz.) can crushed pineapple in juice
1 (8-oz.) package cream cheese, softened
1 1/2 cups cream of coconut, divided
2 large eggs
1 cup whipping cream
Garnishes: lightly toasted shaved coconut, pineapple wedges, fresh pineapple mint sprigs
1. Preheat oven to 350°. Stir together first 3 ingredients; firmly press on bottom and up sides of a lightly greased 9-inch pie plate. Press the crumb mixture all the way up the sides of the pie plate before baking; otherwise, you'll end up with a thick, uneven crust that's too shallow to hold the filling. Bake 10 to 12 minutes or until lightly browned. Transfer to a wire rack; cool completely (about 30 minutes).
2. Stir together sugar and cornstarch in a small heavy saucepan; stir in pineapple. While stirring constantly, bring to a boil over medium-high heat; cook (keep stirring!) 1 minute or until thickened. Remove from heat; cool completely (about 20 minutes).
3. Beat cream cheese at medium speed with a heavy-duty electric stand mixer, using whisk attachment, until smooth. Gradually add 1 cup cream of coconut, beating at low speed just until blended. (Chill remaining 1/2 cup cream of coconut until ready to use.) Add eggs, 1 at a time, beating just until blended after each addition.
4. Spread cooled pineapple mixture over bottom of piecrust; spoon cream cheese mixture over pineapple mixture.
5. Bake at 350° for 38 to 42 minutes or until set. Cool completely on a wire rack (about 1 hour). Cover and chill 4 hours.
6. Beat whipping cream at high speed until foamy. Gradually add remaining 1/2 cup cream of coconut, beating until soft peaks form; spread over pie.
Southern Living Magazine, March 2013
Tagged: Southport | Brunswick Business | Ocean Isle Beach | Sunset Beach | Holden Beach | Oak Island | Shallotte | Calabash |