Seaside With Coffee
Posted on 04/17/2013
On a recent trip to the Southport area I thought I'd go exploring some stores, maybe do a little Oak Island shopping while I was there. I found a real gem when I came across the "Seaside With Coffee" clothing store that carries women's and children's clothing, plus a whole lot of accessories, and I do love accessories. They advertise as having the largest selection of swimwear in the area and from what I saw, I'd say they're right. Plus for those who can never find a swimsuit that fits quite right, they'll do fittings and custom orders, too!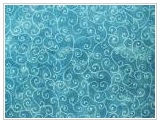 I was able to find the type of summer sandals I'd been wanting and a swimsuit to match! I'd been everywhere looking for these sandals, even online. The sandals are made of a cork base with a black lizard upper. The swimsuit is a one-piece designed with pale turquoise swirls that look great with a matching wrap sarong. Phyllis Coffee the owner of the shop was working the day I was there. I found her to be both helpful and very knowledgeable about what would look best for any particular body shape. The suit combo I bought was one I might not have purchased otherwise but with her input I've never looked better in a swimsuit! I'm thrilled with my purchases!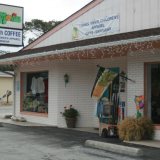 It was here that I also discovered some Fair Trade items from Unique Batik and some beautiful beaded jewelry, headbands and great textiles from Guatemala. I really prefer buying Fair Trade things whenever I can as it supports craftsmen in other countries and I know they're paid a fair wage for their work.

Every now and then the shop holds a fashion show. They just had one on April 28th that I just missed by a couple of days. As I always say, timing is everything! Now I'm on their mailing list so I won't miss the next fashion show and can plan a Southport and Oak Island shopping trip around it with my girl friends.

Check out Phyllis Coffee's store on East Oak Island Drive the next time you find yourself on Oak Island and tell her "Hi!" for me.

Tagged: Southport |