Our Anniversary Dinner
Posted on 05/17/2013
Our anniversary was just last week and we wanted to go somewhere special to enjoy a romantic dinner together without the kids. We headed to Southport because some of the best meals we've ever had have been in the Southport restaurants we've tried when in the area. Unsure whether we'd go someplace new or stick with the tried and true, we headed out the evening of our anniversary.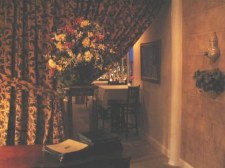 It was truly a wonderful night for us. We took the leisurely drive to Southport and chose to eat at Joseph's Italian Bistro. We couldn't have made a better choice! Of all the Southport restaurants we could have tried I'm so glad we went to Joseph's. They had the best, most authentic, Italian food that has ever crossed my lips and believe me, I've eaten my share! We were thrilled with the entire experience from start to finish and I highly recommend you pay them a visit.

The spirit of Joseph's menu is reflected in the decor and ambiance of the restaurant. The Tuscan red colors with marble accents in the lounge and reception area bring to mind Old World Italy. This transitional space sets the tone for tranquility that defines Joseph's. A major contrast from everyday life that you notice as soon as you come through the door.

In the restaurant there are windows that line the rear wall of the restaurant and offer beautiful views of the Intracoastal Waterway. We chose to sit on the deck outside and watch the sunset. It couldn't have been any more romantic.

We had such a lovely time at Joseph's and I'm so glad we chose to go to Southport for our anniversary dinner.