There's Always Lots to Do Here
Posted on 05/17/2013
Being located so close to Sunset Beach is a huge benefit for not just adults but for kids of all ages as well. There's always plenty of Sunset Beach NC events going on throughout the summer that keep us all busy. That's one of the things I love about summertime!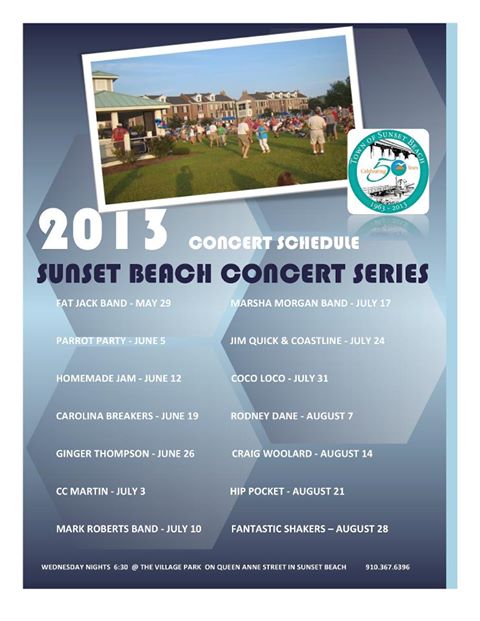 One of the ongoing Sunset Beach NC events that you should mark your calendar for is the Sunset Beach Free Concert Series held every Wednesday evening from 6:30 to 8:30 p.m. The series kicks off on May 29, 2013 at the Village Park at Seaside Village with the Fat Jack Band performing. The public is invited to this free event.

Fun events for the kids are the Museum of Coastal Carolina and Ingram Planetarium Summer Camps that are coming up for kids ages 7 to 9. These camps provide entertaining and safe learning opportunities for kids age 7 to 9 and are led by knowledgeable and competent staff. The cost for each camp is $150 per child and space is limited so you have to register early to get your kids in!
Space Camp will be held at Ingram Planetarium from 9:00 a.m. to 2:00 p.m. from July 29 to August 2. Each day includes hands-on activities that explore different aspects of space exploration. Campers get to watch movies related to space exploration in the Planetarium's state-of-the-art SciDome Sky Theater. Lunch is provided to the campers so that makes it even easier for us parents. The camp is limited to 12 kids ages 7 to 9 so hurry and sign up soon. Ingram Planetarium is located at 7625 High Market Street in Sunset Beach, NC.
Reef Riders Summer Camp will be held at the Museum of Coastal Carolina from 9:00 a.m. to 2:00 p.m. from August 5 to 9. The camp will include marine animal care and conservation, beach safety, outdoor excursions, and interactive games. Lunch will be provided daily. The camp is limited to 12 kids ages 7 to 9. The Museum of Coastal Carolina is located at 21 East Second Street in Ocean Isle Beach, NC.
If you need more information or want to register your child for the Museum or Planetarium summer camp, just call Terry Bryant at 910-579-1016.