Kindred Spirit
Posted on 07/11/2013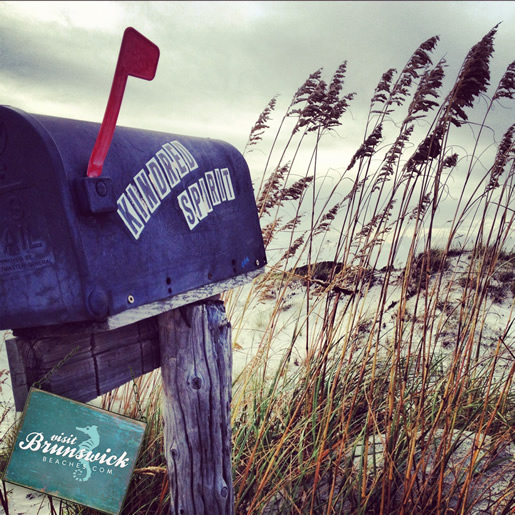 Bird Island is truly a unique island all on it's own. The southeastern most point of North Carolina is completely uninhibited and preserved without any buildings, houses or even roads. It's a hot spot for boaters to beach at because it's very private and a great place for kids to play. Without a boat, it'd be a long and peaceful walk. Bird Island has been listed as on of the "Worlds Most Unusual Beaches" by Yahoo! Travel.
What is the Kindred Spirit? Well, it's the main attraction and what makes this beach quite unusual and it's a little black mailbox with a story.
In 1981, when land-development proposals surfaced, a local resident planted the mailbox, with a notebook and pencils inside, in this unlikely spot as a plea to help save the 1,300-acre barrier island.
And it worked. Old-fashioned handwritten letters helped secure Bird Island's state reserve status.
Even after the island was saved, though, the letters of fond memories kept showing up. Then came a pair of reading glasses.
Then a steady stream of wishes, dreams, words of encouragement, and tales of love and love lost arrived from visiting tourists who, still today, sit on the adjacent bench to bare their soul at the Kindred Spirit Mailbox.
The Kindred Spirit is on the edge of civilization and a healthy walk from the south end of Sunset Beach. When you drive onto Sunset Beach, take a right at the stop sign and drive down as far as possible. Park, walk out to the beach and start walking South. You'll see a flag pole, a little black mailbox and a little bench.
Have you ever visited the Kindred Sprit? "LIKE" and share your stories with us on Facebook, Twitter and Google+.