Brynn Elizabeth Jewelers
Posted on 06/24/2013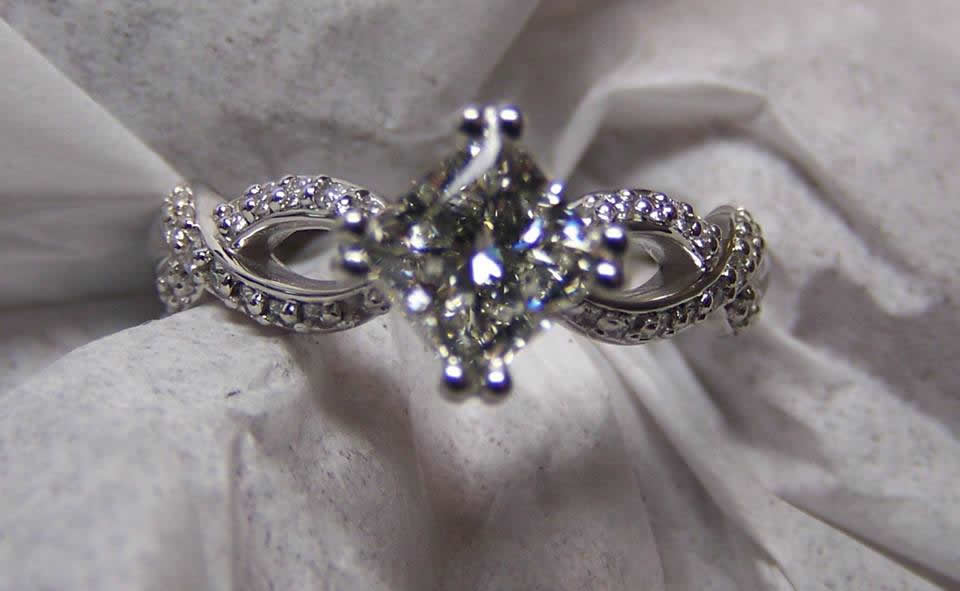 Brynn Elizabeth Jewelers is a Jewelry Shop right here in Ocean Isle Beach. Brunswick County's own Michael Abushakra followed in his fathers foot steps by opening his own Fine Jewelry Store, named after his beautiful daughter, Brynn Elizabeth. Michael told us a wonderful story the other day, which we wanted to share:

It was Thursday a little after 4pm, and a young guy walks in with a small briefcase and seems a little lost. I greeted him and told him I would be right with him as soon as I finished with another client. When I was finished I looked at him and said "How can I help you?" again he was somewhat hesitant, but replied "I guess I have two questions, if I have a diamond, how long will it take to make a ring? And how much will it cost?" Anyone who has ever been in the jewelry business knows this is a question that can only be answered with "Well it depends, and it depends". I have been fortunate enough to grow up in the jewelry business and have been making custom jewelry for close to twelve years. The answer to the first question is if we can find a mounting that is manufactured and will accommodate your diamond it can be done in a day or two, however if we have to start from scratch we are going to be looking at 5-8 weeks at best. And to answer the second question I have a fee for setting the diamond which is constant, however with gold retailing for between $150-$200 per pennyweight (approx. 1.55grams) the weight of what we select can make a huge difference in the final price. So I then asked if I could see the diamond? To which he produced a very nice 1.01ct princess cut with an EGL certificate. I asked if he had any ideas on what he would like to ring to look like? With the help of a pencil and a scratch sheet of paper he produced a very nice sketch and I know exactly where to look. A company in Louisiana makes a ring that looks very similar to what he was asking for. There are only three problems with this (aside from the fact the ring is IN Louisiana) 1) My cutoff time to place an order is 5pm (it is currently 4:45, 2)The ring is only available in a rough casting (meaning none of the 36 1mm diamonds are set), and lastly 3) He needs the ring by days end Friday (the NEXT DAY!!!). So I calmly reply, "No problem, however, if this is what you want to do this, we need to place this order now!". With deposit in hand I place the order for the ring, 36 little bitty diamonds, and a unique head to set his princess cut diamond in.
The next day I continuously check the UPS tracking on my Iphone while working to get EVERYTHING else done that needed to be done for the week. At about 1:30pm the ring and diamonds arrived and it was go time. I started setting and measuring as fast, yet meticulously, as possible. I started with the melee (small diamonds) first and worked my way up the center (did I mention princess cut is the most difficult to set, being extremely prone to chipping). I worked until my fingers were sore and at exactly 5pm I had a completed ring, called my young client and waited patiently for him to arrive. He comes in covered in sand, obviously fresh off the beach, and is rushed as he had to sneak off the beach to avoid an already suspicious girlfriend. He told me of his plans to take her for a walk down to the Kindred Spirit mailbox on Bird Island, so that he could propose at sunset on Sunset Beach. What a guy.

I received a text the following day that everything went perfect and she LOVED the ring. These are the stories that I love and make my passion for jewelry so gratifying. I love being part of so many beginnings, it brings back the feelings of excitement and nerves from my own engagement over and over again. It also goes to show nothing is impossible when love is involved. ~ Michael Abushakra

The business owners of the Brunswick Beaches are here to make your vacation a successful one, and will go out of the way to make you feel right at home!

Visit Brynn Elizabeth Jewelers on Facebook!
Tagged: Brunswick Business | Ocean Isle Beach |